NATO Secretary General & Co
Statement about situation in Latvia
Latvian Human Rights Defender "Helsinki-86" have already informed NATO and EU about former KGB felon crimes in Latvia nowadays. Those criminals had a chance to continue hold Latvia's authority in new independent Latvia because Helmut Kohl and Mikhail Gorbachev criminal statement to extend Molotov-Ribbentrop pact.
This pact truly is the biggest crime in last decades against latvian nation and civilization it self. Agreement between Kohl and Gorbachev was supported by USA president Bush senior, so NATO was in touch of all this. "Helsinki-86" already asked NATO and EU to intervene military and stop illegal sovereignty of Latvia. Only way to restore democracy in Latvia is to make worldwide intervene in Latvia and arrest all former KGB criminals who now are in charge in genocide against latvians.
Russian 5.colonn together with local communist support, have already prepared plans to make a conflict inside of NATO community. Most of Latvia's biggest city mayors are former not-latvian communists who are patrons for Russia and it's imperial plans. Atrocious incidents in Riga and Ventspils, where NATO soldiers were forced into attack is approvement for that. This all was russian plan, and has nothing to do with latvian nation at all. That is pure provocation for latvians, to make them look criminal. Authors of all this incident is Security Police and Ministry of Internal Affairs of Latvia, what is totaly completed with former USSR personnel – murderers and local communists. All of them are interested to rebuild Empire of Russia, accordingly to escape from retribution. Main masters of the current situation are Ivar Godmanis and Aivar Borovkov, both not-latvians. All institutions starting with Ministry of Defence and ending with Secretariat of President, are managed by those two persons, who are in straight command by Vladimir Putin.
Latvian Human Rights Defender "Helsinki-86" have already informed NATO about current situation before, but did not recieve an answer. From that it is possible to conclude, that Secretary General Anders Fogh Rasmussen could be in Russian side in this current situation. Standard of judgement is this ignorant silence and unperformed necessary support.
Our organization repeatedly request NATO and EU to support Latvia and intervene in it's current situation, what is terribly criminal, arrest all criminals who are in charge in institutions of Latvia, and make deoccupation with reference to International rules and conventions. That must be done immediately to keep Europe away from another bloodshed! Is it not enough with situation in Ukraine?!
Latvian Human Rights Defender "Helsinki-86" are willing to cooperate with NATO to recover rules of law in Latvia, Europe.
Sincerely,
LHRD "Helsinki-86" 25.05.2014
Linards Grantins, Raimonds Bitenieks, Janis Ziverts, Imants Aparnieks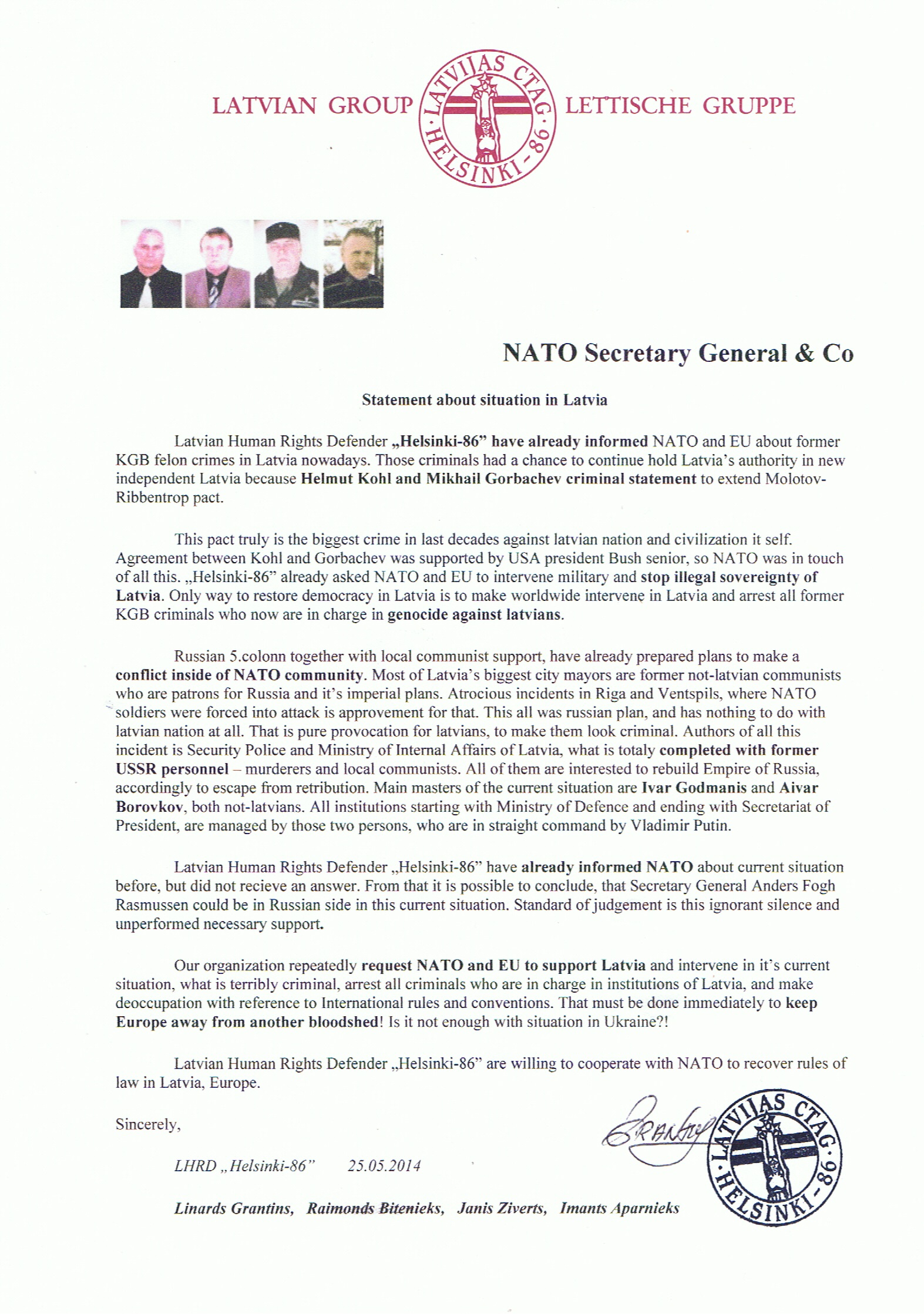 Adresāti, kuri saņēmuši šo ziņojumu: