US Department of Defence, NATO Secretary General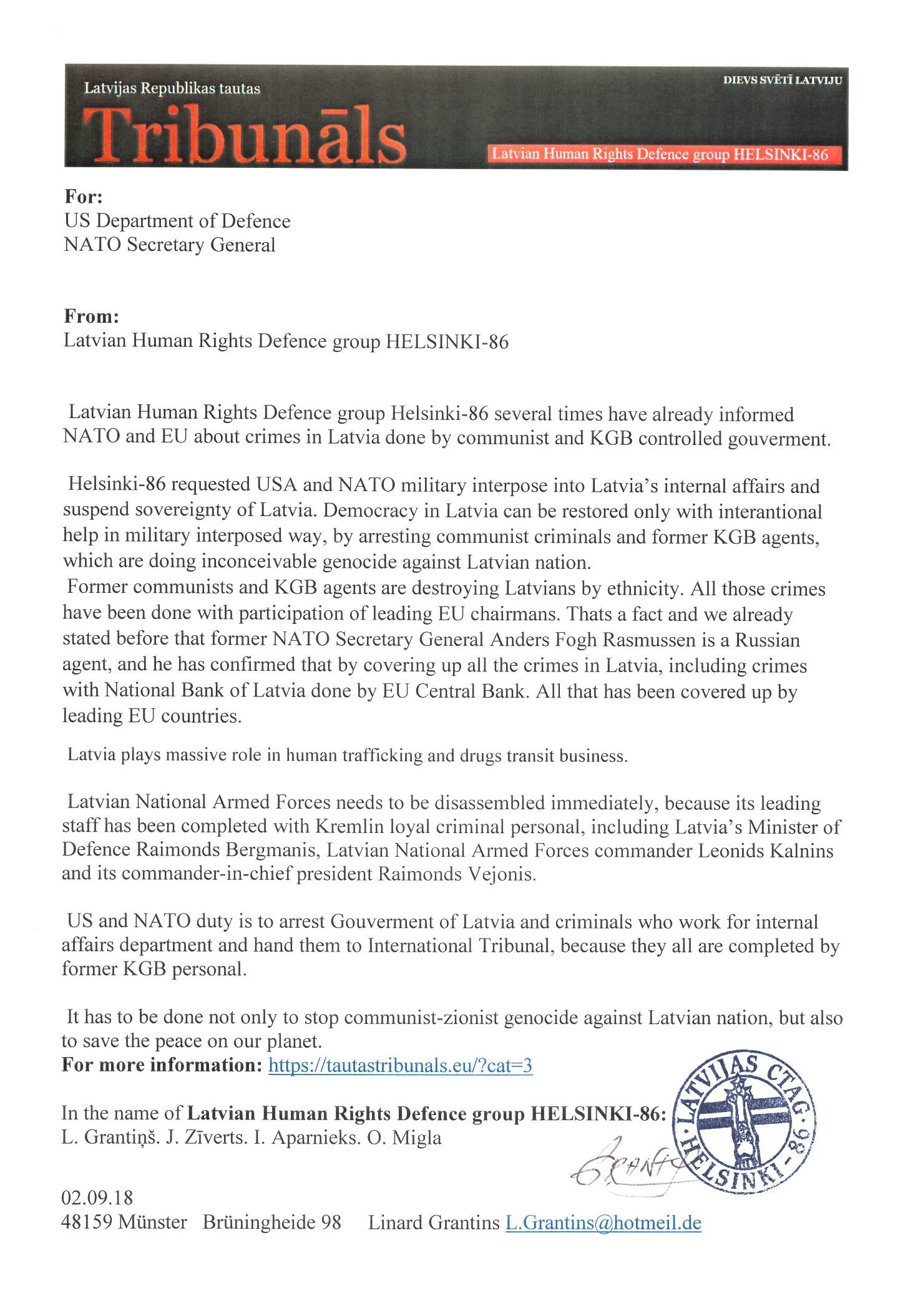 ---
---
---
---
---
---
---
For:
US Department of Defence
NATO Secretary General
From:
Latvian Human Rights Defence group HELSINKI-86
Latvian Human Rights Defence group Helsinki-86 several times have already informed NATO and EU about crimes in Latvia done by communist and KGB controlled gouverment.
Helsinki-86 requested USA and NATO military interpose into Latvia's internal affairs and suspend sovereignty of Latvia. Democracy in Latvia can be restored only with interantional help in military interposed way, by arresting communist criminals and former KGB agents, which are doing inconceivable genocide against Latvian nation.
Former communists and KGB agents are destroying Latvians by ethnicity. All those crimes have been done with participation of leading EU chairmans. Thats a fact and we already stated before that former NATO Secretary General Anders Fogh Rasmussen is a Russian agent, and he has confirmed that by covering up all the crimes in Latvia, including crimes with National Bank of Latvia done by EU Central Bank. All that has been covered up by leading EU countries.
Latvia plays massive role in human trafficking and drugs transit business.
Latvian National Armed Forces needs to be disassembled immediately, because its leading staff has been completed with Kremlin loyal criminal personal, including Latvia's Minister of Defence Raimonds Bergmanis, Latvian National Armed Forces commander Leonids Kalnins and its commander-in-chief president Raimonds Vejonis.
US and NATO duty is to arrest Gouverment of Latvia and criminals who work for internal affairs department and hand them to International Tribunal, because they all are completed by former KGB personal.
It has to be done not only to stop communist-zionist genocide against Latvian nation, but also to save the peace on our planet.
For more information: https://tautastribunals.eu/?cat=3
In the name of Latvian Human Rights Defence group HELSINKI-86:
L. Grantiņš. J. Zīverts. I. Aparnieks. O. Migla
02.09.18
48159 Münster   Brüningheide 98     Linard Grantins L.Grantins@hotmeil.de